In January 2017, Tsubakimoto Chain established Tsubakimoto Philippines Corporation(TPHC) in the Philippines as a sales subsidiary of Tsubakimoto Singapore (TSL). This initiative is intended to strengthen sales in the Southeast Asia region.
Previously, TSL has been pursuing business development in the Philippine market, but establishing a new company now enables us to introduce targeted sales and technical service closely tailored to local customers. We intend to grow our business in this market and strengthen the penetration of our brands with a focus on automobiles, the cement industry, mining, foodstuffs, beverages, electrical equipment, and ports and harbors.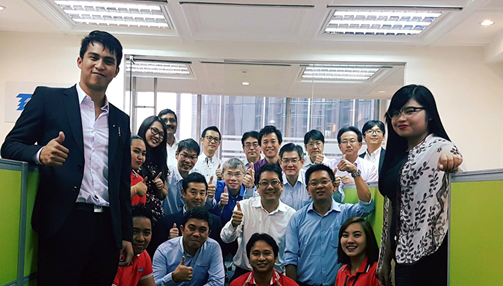 The opening ceremony for this new company and a subsequent meeting were held on January 19, 2017. Participants, which included 21 employees of the TSL Group and TC, enjoyed dinner and an office tour to mark the occasion. TPHC will continue to focus on expanding its business in the Philippines.