Pulp & Paper
Paper and pulp processing can be especially problematic for wear components, with chain failure resulting in considerable downtime as the production line is reset. For inferior chains, dust from wood or paper can cause increased wear, leading to elongation and eventually derailment.
Tsubaki chains are manufactured to exacting standards so that they wear evenly, this means that parallel chain maintains its precision for longer, which minimizes the effects of a dusty environment. Contamination of paper is also a serious issue, as lubricant from a chain can bleed onto the paper, rendering a production run redundant. Tsubaki offers a range of Lambda internally lubricated chains, dry to the touch, which protects paper from exposure.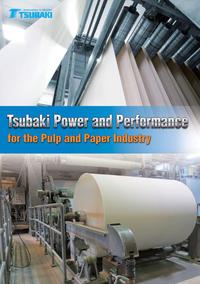 There are many processes involved in making paper. You will find Tsubaki products throughout these processes, from where wood chips and waste paper are made into pulp to web transport and paper shipping.